Compare Best Income Protection Insurance NZ Quote and Buy Today
Every year thousands of Kiwi's find themselves unable to work due to illness, injury or disability.
If you were disabled, would you have enough savings or sick days to pay the bills?
When the unexpected happens, we know that what matters is peace of mind from an income protection insurance policy you can trust.
We work with the best providers of income protection insurance in New Zealand, it is simple to arrange and tailored to you and your circumstances.
Income protection insurance provides an income to help replace a part of lost earnings due to ill health and injury.
How does income protection insurance work?
Definition: Income Protection Insurance in New Zealand is a policy that pays a monthly benefit for 2 or 5 years, or until age 65 or 70, to the person insured who is unable to work due to an illness, accident or disability after an agreed waiting period of between 2 – 104 weeks.
Do you need Income Protection Insurance?
Your most valuable asset is your ability to make a living, your ability to work and earn an income.
If you are disabled, income protection insurance is designed to replace a part of your income.
Recent research finds that more than 1,000 families a week – 54,800 a year, experience a sickness that prevents the primary income earner from working for three months or more.
Such a long away from work could result in a redundancy?
Mental illness can also be disabling, and with income protection insurance in place, the insurer will work with the individual and offer rehabilitation and retraining support.
Maybe a career change would help you get back to work. Because after all, your greatest asset is your ability to earn an income.
Getting help from an HR adviser would help clarify that.
Income Protection Insurance covers 1 in 4 Kiwis.
By comparison, around 4 in 5 Kiwi's have their vehicles insured.
An income of $60,000 a year for 30 years comes to $1,8 million, much more than the value of most homes.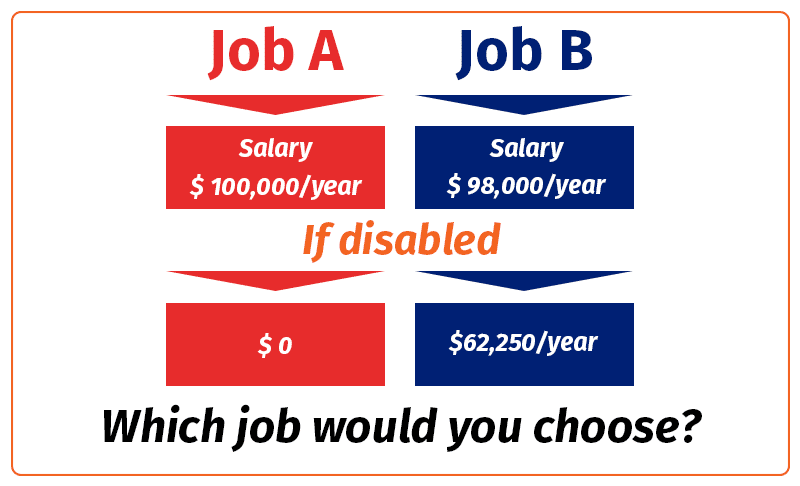 Job A without any income protection and Job B with income protection insurance.
That's pretty incredible aye?
Now, look at the following chart and imagine your future income and earnings.
Do I need to ask if you consider your ability to earn an income significant enough to ensure your future earnings potential?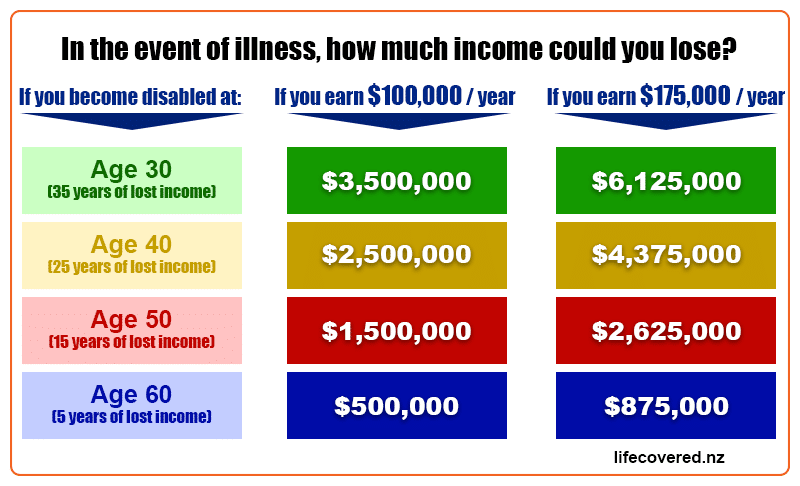 Why you need Income Protection Insurance
The chance of missing months or years of work because of an injury or illness may seem remote, especially if you're young and healthy and you work at a desk.
But each year a staggering 54,800 New Zealanders are impacted by someone in their household being unable to work for three months or more due to illness.
To break it down.
That's equal to 150 Kiwi's every day, that is impacted by a disability that prevents you and me from work and thereby earning an income.
The actual claims are evidence that more and more Kiwi's protect their future income.
And here's the proof.
Income Protection Insurance, ACC & WINZ
Accident Compensation Corporation shortened ACC compensates as the name implies for accident-related incidents.
ACC state on their website that:
"ACC pays up to 80% of your income as weekly compensation if you're unable to work because of an injury ACC is covering. This means you'll still get paid while you recover."
Two details catch my attention.
Firstly unable to work because of injury and second injury that ACC is covering.
Wow!
While ACC provides cover for specific injuries, ACC does not offer a blanket cover-all solution.
Here is an example of the physical injuries ACC cover. Get the complete overview here.
A physical injury is when there is actual damage to your body. This includes:
sprains or strains – such as ankle, back, knee or shoulder sprains
wounds – cut, broken or bruised skin
burns
fractures
dislocations
dental injuries
hearing loss
loss of consciousness.
Thankfully there is more to Income Protection Insurance than ACC.
Here's a recent headline from New Zealand Herald.

Government benefits are unlikely to cover your living and lifestyle expenses.
You can only claim from ACC if you suffer an accident.
WINZ, Supported Living Payment net weekly benefit to a single person is $269.15.
Supported Living Payment is for people who are not able to work because they are:
restricted in their capacity for work because of a health condition, injury, or disability or totally blind or
caring for a person who requires full-time care and attention at home
Clearly the Supported Living Payment benefit is to help with bare minimums.
Here another headline from Stuff.co.nz

Use the table below to compare Income Protection Insurance options to find out which one is best for you.
| wdt_ID | Feature | Loss of Earnings | Loss of Earnings Plus | Mortgage and Living Cover |
| --- | --- | --- | --- | --- |
| 1 | Worldwide 24/7 Cover | ✔︎ | ✔︎ | ✔︎ |
| 2 | Your Benefit Amount | Up to 75% of your pre-tax monthly salary | | Up to 75% of income or 115% of Mortgage/Rent - max $7,500 per month |
| 3 | Waiting Period | 2 Weeks - 104 Weeks | 2 Weeks - 104 Weeks | 2 Weeks - 104 Weeks |
| 4 | Benefit Period | 2 or 5 years, or to age 65 or 70 | 2 or 5 years, or to age 65 or 70 | 2 or 5 years, or to age 65 or 70 |
| 5 | Transition to Level Premiums | ✔︎ - no further underwriting | ✔︎ - no further underwriting | ✔︎ - no further underwriting |
| 6 | Tax Deductible Premiums | ➖ | ➖ | ✔︎ |
| 7 | Redundancy Cover Option | ✔︎ | ✔︎ | ✔︎ |
| 8 | ACC Offsets | ➖ | ➖ | ✔︎ |
| 9 | Homemaker support benefit | ➖ | ➖ | ✔︎ |
| 10 | Rehabilitation and Retraining Support. | ✔︎ | ✔︎ | ✔︎ |
How much does Income Protection cost?
The premiums for Income Protection will depend on a variety of factors.
Age is significant and the younger you are, the lower the premiums are.
Your job will have a importance on how much you pay.
As late as last week a gentleman that works as a linesman purchased income protection. His area of expertise compared to that of an office worker are two completely separate risk categories. Therefore the linesman premiums are higher than the office worker.
The same linesman was deferred income protection through a bank as it was considered too risky business for the bank.
However, the cost of an income protection policy will vary based on a number of factors, including:
age
job category ie. linesman vs office worker
whether you smoke or have smoked the last 12 months
the percentage of income you would like to cover

Agreed Value – max 62.5%
Indemnity Value – max 75.0%

the waiting period before the policy pays out
how long you want the benefit payout
health (your current health, your weight, your family medical history).
Here's an example of a 35 yo male, non-smoker, office worker, 90 days waiting period and 2 years benefit period.
| wdt_ID | Feature | Loss of Earnings | Loss of Earnings Plus | Mortgage and Living Cover |
| --- | --- | --- | --- | --- |
| 10 | 35 yo Male, non-smoker, AA occupation | $45.28 p/m | $47.00 p/m | $40.27 p/m |
| 12 | Benefit Per Month | $6,250 | $6,250 | $4,944 |
| 13 | Premiums Tax Deductable | ✔︎ | ✔︎ | ➖ |
| 14 | Benefit Taxable | ✔︎ | ✔︎ | ➖ |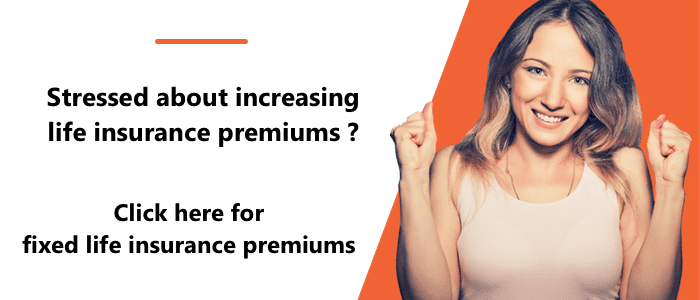 Common question around Income Protection
There are lots of benefits to being covered by income protection.
Firstly, the satisfaction that your financial situation is more secure. That you are guaranteed a paycheck if you cannot work.
Secondly, there are more definite benefits for you to consider, dependent on policy and add-on options you choose.
Recurrent Disability: Your benefit will continue straight away if you're affected by the same disability within 12 months of being back at work – waiving your waiting period.
Disability Reset: Following a claim on Your Income Protection Insurance Policy that has either 2 or 5-year benefit, the benefit period will be reset. This allows you to claim for a new or related illness if the need arises.
Accommodation: Pays for your family to be with you if they live more than 100km away.
There are many banks and insurance companies that offer Income Protection Insurance.
The ones that stand out in the crowd offer a seamless transition to fixed premiums and pay your premiums while you are on claim.
And finally, the premiums you pay can be claimed on your annual income tax return.